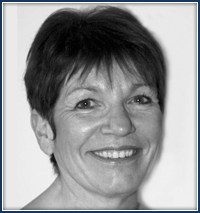 I have taught fitness classes in Shrewsbury for more than 30 years and still really enjoy the concept of 'Group Exercise'. The benefits of attending classes include improved fitness, posture, balance, strength, mobility and flexibility with an added bonus of a sense of general wellbeing. The social element of group exercise allows you to attend classes in a fun and friendly atmosphere.
My interest in fitness started after attending 'Keep Fit' classes in the late '70's where I discovered the enjoyment of group exercise and I spent the next few years learning to teach the new style of fitness called 'aerobics'.
The fitness industry evolved so I trained to teach not only exercise to music but also 'Physical Yoga', Back Care, 'Stretch, Tone. Relax', water fitness, body conditioning, step, circuits and was an examiner for instructor training.
Coming from a nursing background I was delighted to find a way of helping people to feel good by promoting healthy lifestyle rather than treating illness.
Initially, I made a name for myself as an unforgiving 'drill instructor', a label I had difficulty shedding but advancing years and common sense led me to a different approach and a much more inclusive style of teaching.
I teach with attention to technique but also a sense of fun and enjoyment. It is my responsibility to offer modifications, adaptations and progressions plus advice and help when needed. I try to offer different challenges to those who attend classes and continue to seek new ideas with a constant belief that expensive equipment and machinery are unnecessary.